We all see these amazing vacation pictures, weekend getaways with friends and family, or great home and entertainment upgrades. Sometimes you may wonder how you can live that way, but the words "money management" or "budgeting" seem overwhelming and just a little out of your grasp.
Good news! It does not have to be that way! Money management is simply the process of budgeting, saving, and investing. With the right financial consultant, these words don't have to be worrisome.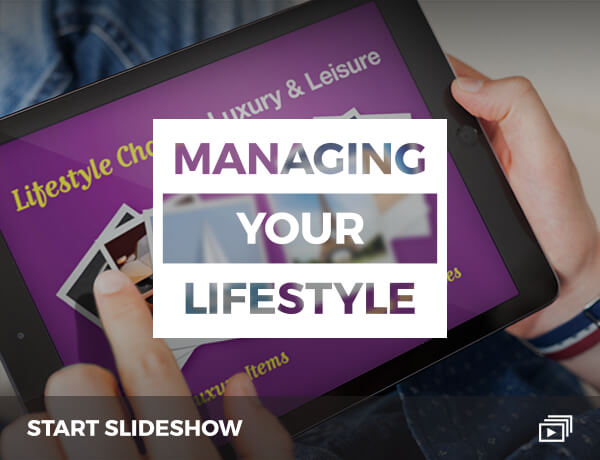 If you are a local to Northern Virginia, John Clawson is an experienced financial advisor in Winchester. He is able to assist with managing your money to help you get the best out of life. Whether you are retired or just starting out on your monetary journey, having a financial consultant can help guide you in making financial decisions for your lifestyle. For those who want to live minimally, a financial planner can help you with your plans to travel and see the world or start that new business you have been dreaming about.
Living a desired lifestyle is about prioritizing and making educated decisions. Some common concerns to consider when reviewing your finances include: your home, want versus need, and investing. For more information on Lifestyle Choices, view our slideshow on Managing Your Lifestyle.
1. Your Home
The size of a house and property and the resulting monthly mortgage should be thoughtfully considered. The true cost of maintaining a larger home may take away from money spent on activities that better suit your desires and lifestyle. For those just graduating college, you may want to delay buying a home so you can spend money on traveling or starting a new business. But if a large home is important to you then the mortgage is something to be managed as part of your desired lifestyle. 
Occasionally it is worth reassessing your home, what it means to you and if it is still meeting your needs. Is it worth downsizing to a smaller house or property? Should you be applying the money you were spending on the mortgage and maintenance of that home and investing it for your future or desired activities? A financial planner can help you answer these questions and guide you toward making educated decisions for you and your family.
2. Want vs. Need
Times have changed. Things our parents didn't have access to and may have lived without are often considered common necessities today. However, want versus need should be considered when managing your money. This is a very personal part of money management as the list may be different for each individual. When making the decision whether something is a want or a need, it is important to remember each luxury item or activity has two costs: the actual cost (dollar amount) and the opportunity cost (what the money may have earned elsewhere).
Nowadays you can get the same luxury experiences at a lower cost. Maybe that means having a less expensive version of your dream car or home, staying at a condo rented through a private owner for vacation instead of an expensive hotel, waiting for deals on flights, or eating more meals at home instead of dining out.  Living minimally in some areas of your life can help you save the money you want to spend on the things that truly make you happy. 
3. Investing
Smart decisions on where to live, what is important to you when spending money, and how to spend your leisure time can add up over time. You can use the opportunity cost savings from those decisions and invest for your future lifestyle. Financial planner of Winchester, John Clawson, can help you make those investment decisions. He can assist in asset allocation--an approach to manage investment risk by diversifying a portfolio among stocks, bonds, and cash equivalents. This can allow you to enjoy some of your resources now and later in life.
Whether you are just out of college or are about to retire, John Clawson can walk you through making a budget, how to save, and how to invest for your lifestyle. All this can be done while being conscious of the vision you have for future finances. With careful money management, you can make the life you want to live, the life you are actually living now! Schedule an appointment with John Clawson today.
*Shenandoah Valley Financial Services is located in the city of Winchester in Frederick County, VA. We serve as financial advisors to clients in the Mid-Atlantic Region primarily in the states of VA, MD, DC, FL, NC, SC, PA, and WV. 
This is meant for educational purposes only.  It should not be considered investment advice, nor does it constitute a recommendation to take a particular course of action. Please consult with a financial professional regarding your personal situation prior to making any financial related decisions.  Diversification and asset allocation are investment strategies that can help manage risk within your portfolio but they do not guarantee profits or protect against loss in declining markets.  09/19